Steinway & Sons Legal Counsel Issues a "Policy Letter" on December 11, 2018 regarding Used and Pre-Owned Steinway Pianos replete with threats. These threats are targeted toward any seller of a Used Steinway Piano, including private individuals and musicians attempting to sell their piano.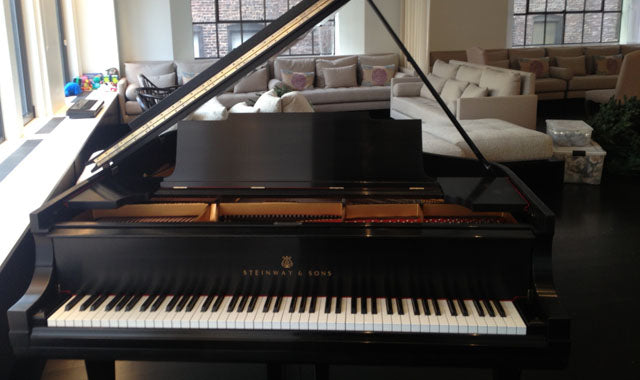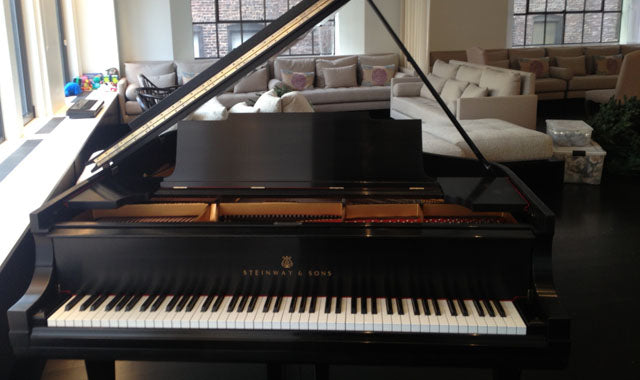 Steinway and Sons Fear Machine 
Many observers of the Steinway Piano trade have noted that in recent years  Steinway has employed fear based selling to overcome the challenge of selling a new piano that generally drops approximately 50 percent in value the moment it comes home. Visitors to the Steinway Piano Gallery tell tales of Salesmen often sounding like Professor Harold Hill in the Music Man, warning with ominous eyebrows, the trouble they'll be in if they buy a Pre-Owned Steinway piano on the secondary market.  
Steinway Counsel Issues Legal Threats in Dec 11 Letter Addressed to All
This week Steinway's General Counsel decided to step up their fear mongering campaign a notch by threatening its competitors with legal action if they "violate" any of the vague conditions that their Legal Counsel laid out in a letter addressed to all.  Those threatened with legal action potentially include any owner of a used Steinway Piano; in many cases it would include individuals who bought their Steinway directly at the Steinway Gallery if, for example, they decided to have work done on their piano outside of the Steinway Restoration Center that some musicians believe is overpriced, and in some cases, not as good as other rebuilders. Another example is the Juilliard School, an institution comprised of hundreds of Golden Age Steinways rebuilt by Juilliard Technicians.
Here is the letter from Steinway Acting General Counsel Todd Brecher:
December 11, 2018
To whom it may concern,
As you may have heard, Steinway & Sons no longer licenses the use of its trademarks or logos (either past or present iterations thereof) to Decals Unlimited for the creation of decals for use on the soundboards and fallboards of Steinway pianos. There were many reasons for this decision, most notably the fact that these decals were being used on restored/rebuilt Steinway pianos that were being rebuilt without genuine Steinway soundboards or wrestplanks/pinblocks, and sometimes without a single genuine Steinway replacement part.
We have found that there is an enormous amount of misinformation on the differences between a genuine Steinway piano and an old Steinway rebuilt with non-Steinway parts on the web, in piano forums, and other places. This misinformation is often propagated by the very same rebuilders that are marketing and selling off the good name that Steinway has established for quality over the course of 165 years of building pianos. We cannot allow our company name (and reputation) to exist on a piano that looks brand new, but in many cases sounds nothing like a Steinway.
Effective immediately, it is no longer legally permissible to purchase Steinway decals for application on a Steinway piano through Decals Unlimited. In addition, Steinway has not authorized any other party to sell Steinway decals, and any such decals are considered counterfeit. Steinway will not be selling decals through our Parts Department or any other Steinway channel.
Furthermore, it is a violation of our trademark rights for someone to market or sell a restored/rebuilt piano as a "Steinway" piano unless: (A) the piano uses ONLY genuine Steinway replacement parts or (B) the non-Steinway replacement parts used are incidental to the function of the piano and any such non-Steinway parts used are specifically disclosed to the consumer. In either case, it must also be specifically and fully disclosed to the consumer that the piano has been rebuilt and by whom. Steinway & Sons takes its reputation and this matter very seriously, and will enforce our rights with respect to any pianos marketed or sold in violation of the above to the fullest extent of the law.
We are asking anyone who comes across a piano that they feel may be using counterfeit Steinway & Sons decals, or which is being marketed and sold as a "Steinway" piano in violation of our trademark rights to report the violation, including the piano and its location, by sending a message to violations@steinway.com. We have come across far too many purchasers of rebuilt Steinways that do not realize that the key components of that piano were not manufactured by Steinway & Sons, so we are taking these steps to better inform and protect the consumer. Thank you for your attention in this matter of great importance to our company.
Sincerely,
Todd Brecher
Acting General Counsel
Steinway Musical Instruments, Inc.
Steinway Claims of Acting as a "Consumer Advocate"
According to Mr. Brecher, Steinway is acting to "protect the consumer". He seems to suggest that many venerable and hailed sellers of Steinway Pianos such as Faust Harrison Pianos, Klavierhaus, Lindeblad Piano Company, and Cunningham Piano Company (an established business that has been around since 1891) are somehow misleading consumers. The idea that Steinway & Sons is engaging in this aggressive legal posturing to "protect the consumer", rather than to sell more pianos and harm its competitors, just doesn't pass the Straight Face Test. 
Steinway's Increasingly Hostile Rhetoric Towards its Used Pre-Owned Pianos
Steinway used to speak very lovingly towards its used pianos. Steinway seemed to be very proud of its older generation pianos and the idea that used Steinways could last for generations. At the esteemed Juilliard School, for example, virtually all of the practice pianos are from the Golden Era. At a certain point, however, a clever marketer at Steinway coined the term "Stein-Was", and a line in the sand was drawn. 
Steinway & Sons Claims that Steinway Pianos Appreciate in Value
Pictured below is an actual advertisement by Steinway from the 1930's. At that time they claimed that "its market value after having been used depreciates less than that of any other make ever produced." 
These days, however, Steinway advertisements seem more focused on the investment value of a purchase at Steinway. Their site states "Times change and markets rise and fall – but for more than one and a half centuries each handmade Steinway instrument has increased in value." This type of language seems to imply that a Steinway buyer could conceivably walk into the Steinway Piano Gallery, buy a new Steinway Piano, and then sell it for not only more than they paid for it, but even more than had they invested in the stock market or other investment.
In reality, as evidenced by gently used and Pre-Owned Steinway Pianos advertised on Pianomart and other reseller marketplaces, the price of a new Steinway piano falls dramatically the moment it comes home, and immediately joins the secondary market. Part of that drop is based on normal market forces, similar to the drop in value of a car "off the lot". Steinway's campaign of fear, however, makes the price drop all the more dramatic. By dissuading buyers (and competitors) with fear of used pianos, and now, with fear of a lawsuit, Steinway & Sons is simply hurting their own buyers by enhancing the "off the lot" price drop. 
Park Avenue Pianos View on Steinway & Sons Used Piano Threats
Park Avenue Pianos is a Steinway Reseller, and primarily sells gently used Steinway Pianos. In that sense, Steinway's latest fear campaign and rhetoric has little effect. However, Park Avenue Pianos also has enormous respect for its competitors like Faust Harrison Pianos, Klavierhaus, Lindeblad, and countless others (including musicians on craigslist and other forums) that sell rebuilt Steinway Pianos, and in this sense, Steinway's effort to bury its competition is disappointing. Park Avenue Pianos often comes across Steinways restored by its competitors (as well as Steinways restored in the official Steinway Restoration Center), and we find that often the quality of the rebuilds outside of the Steinway Factory is of even greater quality. We sense that Steinway is engaging in a new campaign of fear to not only scare its customers, but cause damage to its competitors through intimidation. We hope that Steinway will reconsider its approach, and work to inspire those in the musical community, rather than seeking to scare them.