Updated April 2020 to include Covid19 Implications, and Steinway's move to Virtual Showings. 
With thousands of traditional stores closing, Forbes and WSJ report that in all major industries, from yachts to luxury items, sales are moving online. Steinway Pianos are no exception.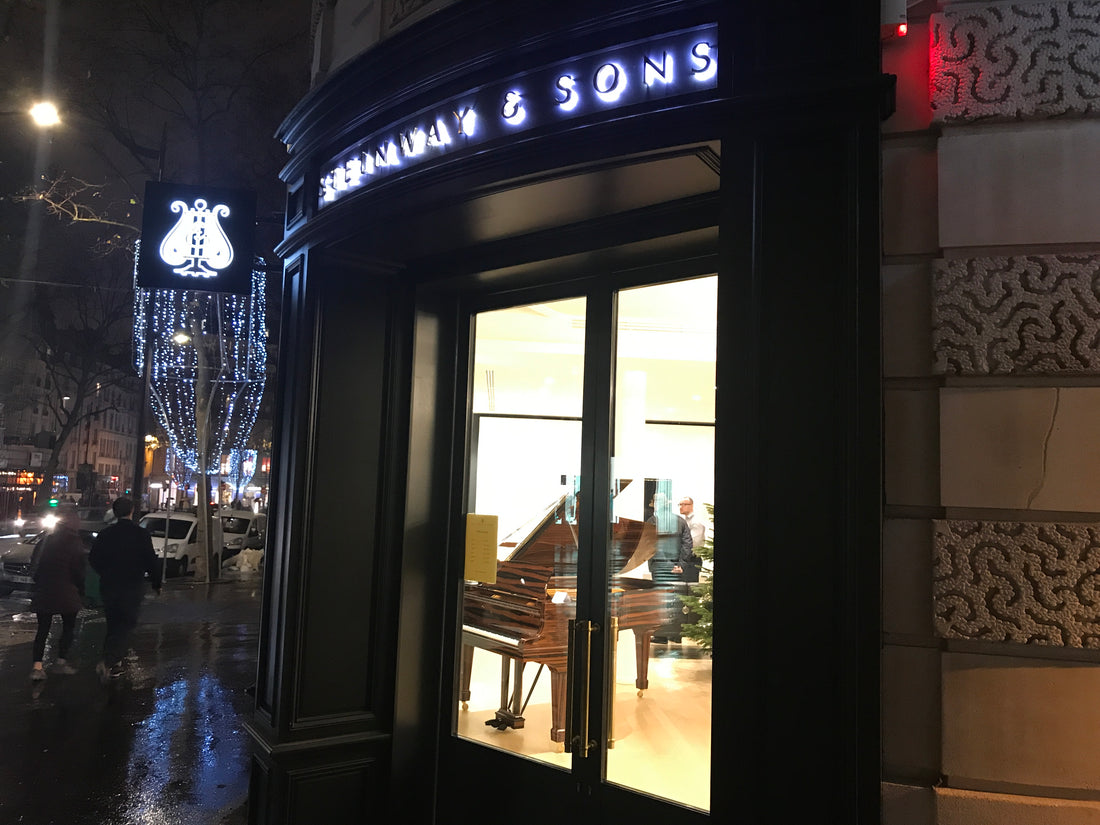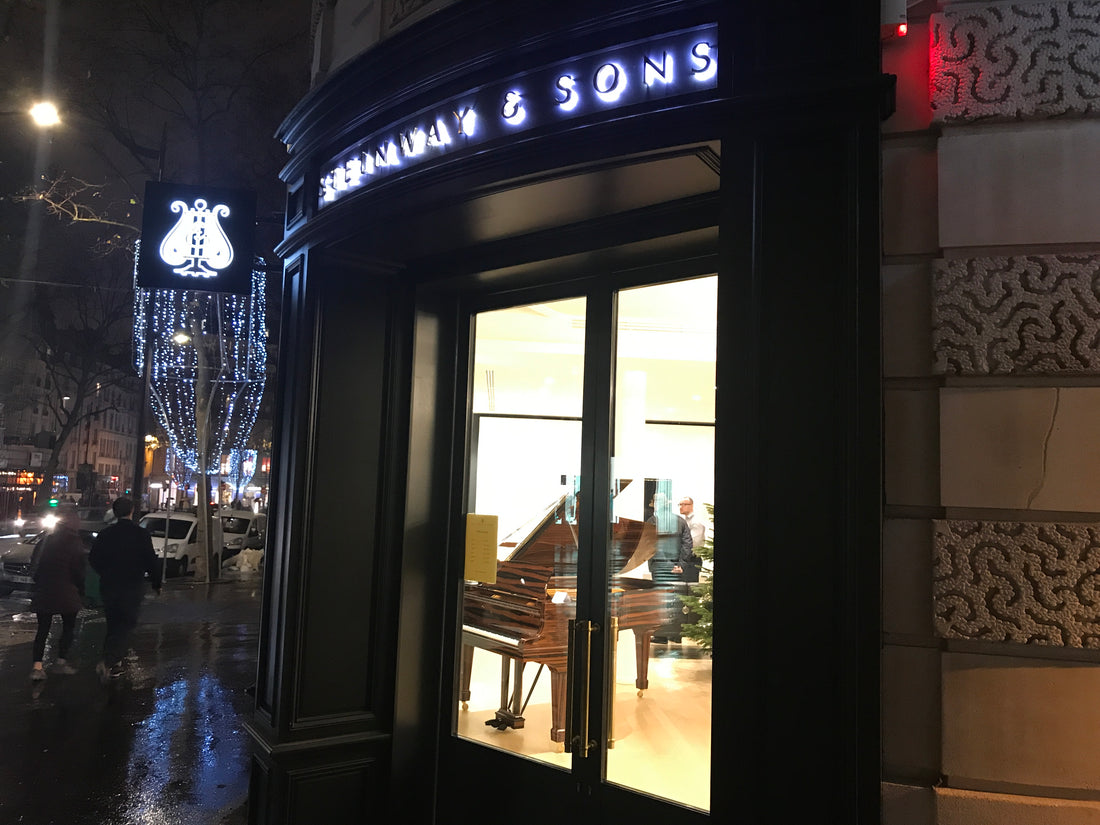 Update April 2020 | Covid19 Implications | Steinway Gallery Goes Virtual
The article below was penned October 2019; however, it seems all the more timely in light of the Coronavirus pandemic. Steinway is now encouraging their clients, who otherwise would have taken a trip to their local Steinway Piano Gallery, to instead have a virtual showing. The homepage of the Steinway website states: 
For the safety of our clients and staff, our stores will be open by appointment on a limited basis and by virtual video appointment. You may schedule an appointment by video call using FaceTime, WeChat or Skype. During this difficult time, our company will be offering unprecedented value to earn your business. We encourage those interested in a piano to take advantage.
Other piano dealers such as Faust Harrison, or we at Park Avenue Pianos, have employed similar virtual strategies to serve prospective piano buyers. 
The Piano Showroom: A Storied Past
The idea of a Piano Showroom is one that has been cemented throughout history in literature, movies, and popular culture. The Piano Shop on the Left Bank tells the story of a Parisian who takes a fancy to a piano store tucked into an out-of-the way street on the river gauche. It is a compelling and beautiful story of how a piano store can mean so much more than simply a shop to sell pianos. With reports of a record amount of Brick and Mortar stores closing, and thousands of traditional storefronts going out of business, what is the future of the concept of a piano showroom?  
New York City's Piano Row
To consider what the future of the Piano Showroom might look like, we can take a look at what's happening on the storied Piano Row of New York City. As reported by the NY Times and WQXR, one longtime member of Piano Row (Klavierhaus) left the venerable location in 2014. From the WQXR report: 
The transaction is the latest in a series of moves that signal the downsizing of the midtown piano retail district, which sits between Carnegie Hall and Lincoln Center and for decades has drawn piano buyers from around the world. (Also remaining are Faust-Harrison and Allegro Pianos, a far cry from the 1980s when nearly a dozen piano businesses ruled the block.)
Steinway Piano buyers used to turn to Brick and Mortar stores in order to feel assured that the store would still be around in a few years, in case they needed follow up service or product support. But with Brick & Mortar showroom stores closing left and right, and online driven based businesses thriving, what is a consumer to do? Many consumers now trust these leaner efficient businesses to stick around for many more years than their older-school Brick & Mortar counterparts.

Steinway Piano Showroom in Hong Kong. Photo by Ronen Segev

The Changing Dynamic of the Piano Showroom
As Hofstra reports in their Journal of International Business and Law article entitled "The Rise and Fall of Brick and Mortar Retail", businesses who have adapted to this new reality have thrived, while Brick and Mortar storefronts and showrooms who fail to institute a leaner business structure have filed bankruptcy. As reported, the consumer now places greater trust and confidence in a lean, technologically friendly business with a smaller physical presence.
The older idea of a large showroom is increasingly seen as stuffy, and an excuse to over-charge the consumer. After all, the Steinway buyer is there to buy a high quality piano for their home; they are buying the PIANO, not the chandelier in a high rent showroom. Even the Steinway Piano company has gotten into the act. As reported by USA Today, Steinway has changed their Showroom strategy, opting to rid themselves of showrooms with "high rent and ample inventory."  Buyers can go to an online resource at Making Music Magazine or Yelp to find the best stores. 
This is understandable, as the high rent of many showrooms makes it impossible for these businesses to effectively compete. Savvy Steinway Piano buyers recognize that lean businesses have the potential to offer them better value and quality because they are not saddled with extremely high fixed costs. 

Hybrid: Online Based Storefronts With Personal Local Presence Gaining Favor 
As reported by numerous periodicals, the concept of a piano showroom or traditional storefront is not out completely. The "shared economy" has allowed for flexibility with the concept of a retail showroom; many stores have focused their efforts online, allowing the consumer more flexibility and ability to research the subject matter, pricing, and other background, but still keep a small local presence with dedicated professionals in various communities.
These stores combine online shopping platforms with educated and committed local partners. Shopify, for example, has introduced a platform which connects online businesses with a smaller local presence. We at Park Avenue Pianos are proud to be part of this lean and healthy segment of the modern Steinway buying experience, and provide both a comprehensive online experience, along with local support in a variety of markets. 
*Featured Photo Below Blog Article Title is of the Steinway Piano Showroom in Paris, France. Photo by Ronen Segev