With concert halls closed, pianist Tianyu Deng performed a livestream concert to give back to her community. 
Through the Park Avenue Pianos Musician Relief concert series, Tianyu raised money for the Manhattan School of Music's Emergency Relief fund.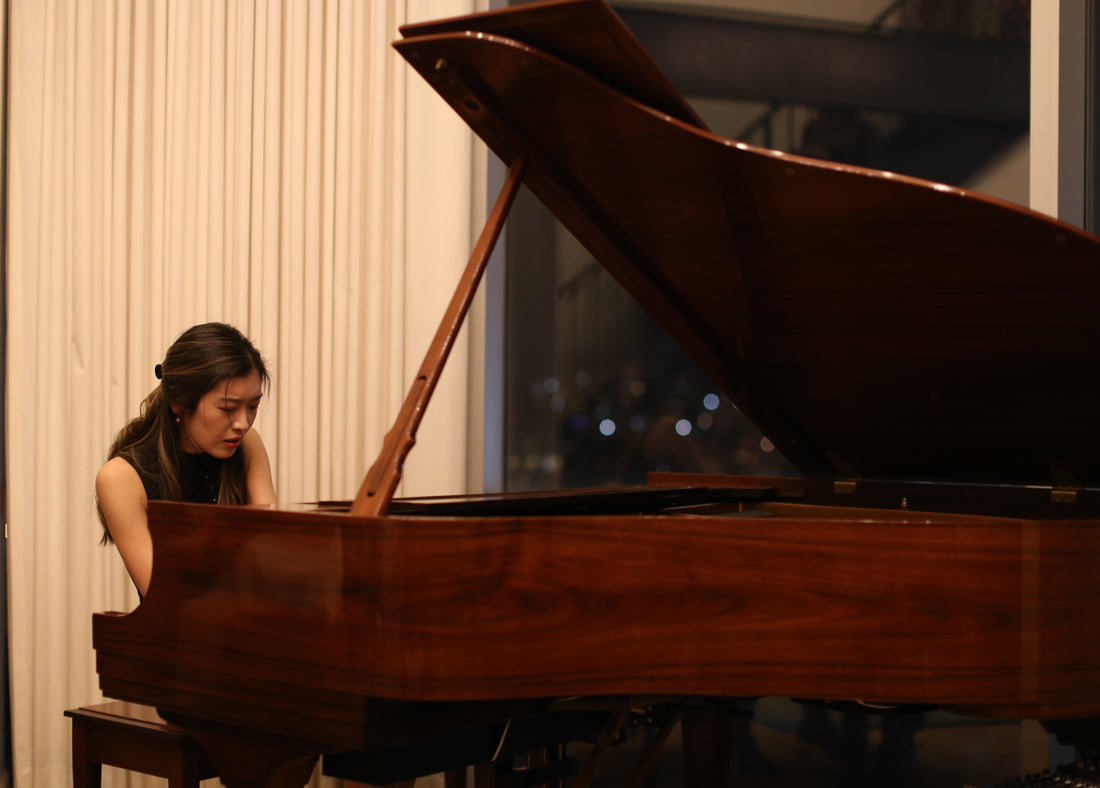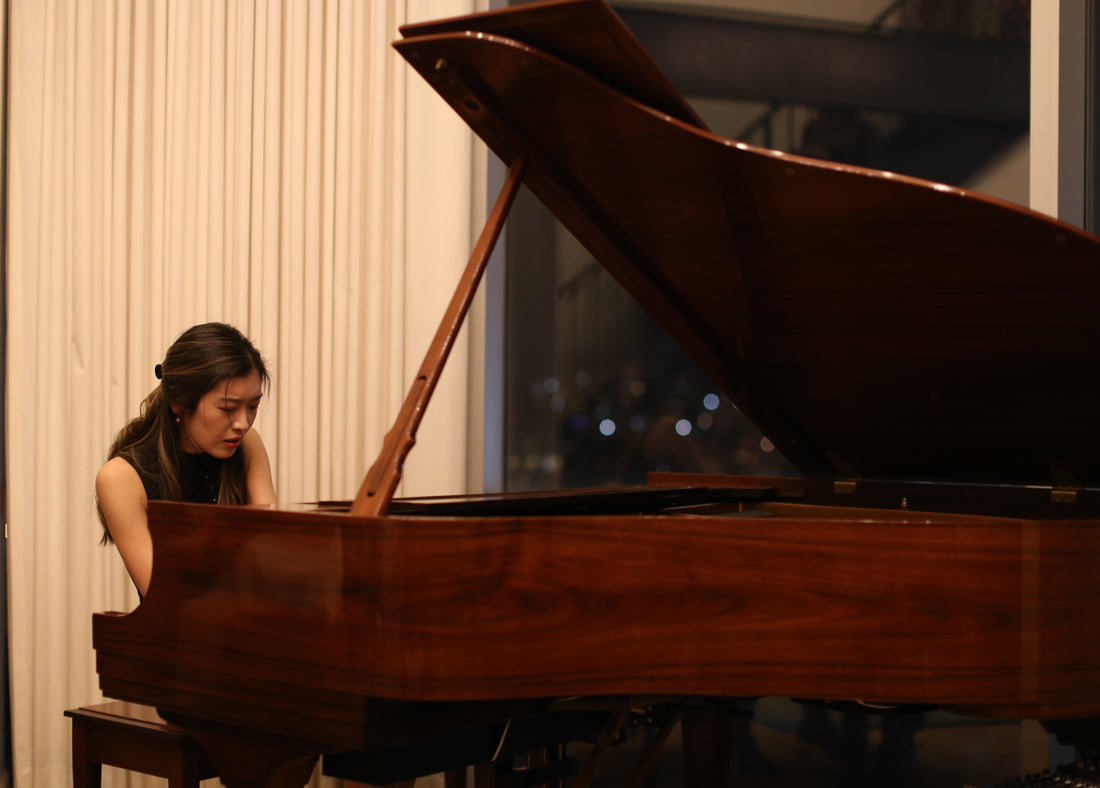 The calm before the storm
In early March 2020, before COVID-19 abruptly took over our lives, most of us paid little attention to the news of a strange new virus identified in China. But for Tianyu Deng, a pianist and doctoral candidate at the Manhattan School of Music, it seemed inevitable that COVID-19 would travel to the United States.
"Because COVID started earlier in China, there was a timeframe where I sensed that something would happen in the United States as well," said Tianyu. Paying attention to the news from her home country, she was aware of the virus before many of her friends at MSM were. 
Though many months have passed since those first chaotic weeks of COVID-19's arrival, they are still vivid for Tianyu and many others. As it became clear that COVID-19 had arrived in the United States, everyone around her started to suddenly panic. Although she had been aware of the virus for weeks, she never expected that the campus would have to close suddenly, leaving students and faculty alike in the dark. 
"At first, we only thought it would be a few weeks of online classes," Tianyu said. "But pretty soon, it was clear that this was going to be a long-term challenge."
With their studies up in the air and New York City quickly becoming a hotspot, international students such as Tianyu were suddenly forced to make life-changing decisions at a moment's notice. 
"At first, we only thought it would be a few weeks of online classes," Tianyu said. "But pretty soon, it was clear that this was going to be a long-term challenge."
A heartbreaking dilemma for international students
As a doctoral candidate in piano at the Manhattan School of Music, another question took center stage for Tianyu: how would COVID-19 affect international students? 
As borders began to close, international students were faced with a momentous choice. They could either return to their home country, abruptly leaving their friends and communities behind, or they could choose to stay in the cities in which they were studying, isolated from their families indefinitely. 
Neither choice was a good one: either way, international students were forced to give up a part of their lives. For Tianyu, this choice became even harder as airline tickets became increasingly expensive and unreliable. 
"It was really hard to get a ticket to China, because there are so many people who are planning to go back. The price of the ticket just became so expensive." 
And even if you could score a ticket to go back home, there's no guarantee that the flight would even happen. 
"I booked a ticket in July, but my flight got cancelled. I booked another ticket in September and that flight also got cancelled. At that point, there wasn't much room for me to change my mind and I decided to stay. It was so expensive and flights kept getting cancelled and cancelled."
Copyright: © Halkin Mason Photography 
A helping hand from MSM: the Emergency Fund for International Students
As COVID's grip over our lives dragged on through the summer, Tianyu, like many others, became increasingly worried about the future. Like many musicians, so many of the things she took for granted suddenly disappeared. 
Everyday parts of her life, like a place to practice, concert opportunities, and her school community were suddenly gone, and it was unclear when they would ever come back.
During this dark time, the Manhattan School of Music established an emergency fund specifically for international students. Recognizing their unique and stressful situation, the school allocated additional funds to Tianyu and many other students from countries around the world.
With students from more than 50 countries, MSM's community extends far beyond the school's Morningside Heights campus. Tianyu had always viewed MSM as being supportive and welcoming for international students, but receiving assistance from the emergency fund showed her how much the community valued students like her.
Giving back through music: a livestream for MSM
 When school started back up in the fall, Tianyu knew she wanted to do something concrete and productive with her time.
Despite her frustration with the situation, she dedicated herself to using her time and talents to help make a difference. With live concerts cancelled for the foreseeable future, Tianyu was invited to perform a livestream concert for the Park Avenue Pianos Musician Relief Concert. 
"At first, I was seeing my friends play concerts on livestreams. I knew I wanted to make something happen during this time and this was a great opportunity," said Tianyu.
Ronen Segev, the president of Park Avenue Pianos, created the Covid Relief Concert Series in March 2020. "It quickly became apparent that live concerts were on the verge of a long term hiatus. We offered artists, with a focus on concert pianists, the opportunity to raise funds for themselves or a charity of their choosing," Ronen said. 
After receiving assistance from the emergency fund last summer, Tianyu decided to use this concert to give back to other international students. She decided to ask the audience to donate to the same fund which had recently helped her. 
"Earning money is fun, but using one's talent to earn money for a good cause is even better. I had the feeling of realizing, 'Oh, I can do something for my school to give back.' It makes you more connected to the school and the community."

Unique challenges of a livestream
"Usually, if I were to prepare a live concert at MSM, there would be a whole backstage team, helping with the live stream, helping with the piano, managing the audience. Now that I've done it by myself, I really appreciate all of those people in a new way," Tianyu said. 
She was no longer just the pianist for the concert – she had to become the producer, sound engineer, and stage manager all at once. 
The challenges weren't only technical: there was also the unnerving feeling of performing alone, without the energy of the audience filling the room. 
"Doing a live stream pushed me to communicate with the audience in a different way. I had the idea that I could talk about the pieces during the live stream as a way of connecting with everyone watching since we couldn't be together." By introducing the pieces, she hoped to make a connection with the audience, despite the distance between them.  
Reflecting on her experience
As soon as the concert ended, enthusiastic responses began flooding in. 
"I received emails from teachers and friends who donated, which I was really grateful for. To be honest, I probably wouldn't have done a livestream concert like this if it were not for COVID. This pandemic revealed a lot of the problems of the current society, but it also showed a lot of love in the community. I'm glad that I participated in my own way in my community."
And during a time where the world has felt scary and unpredictable, playing music for a good cause has given Tianyu a new sense of inspiration.
"A lot of things are not in control right now, during the pandemic. But the fact that you're able to give is quite empowering. Encourage people to give more, share more!"
"This pandemic revealed a lot of the problems of the current society, but it also showed a lot of love in the community."